A ban on alcohol marketing could wipe out an eighth of some Scottish news publishers' advertising revenues, according to a survey of figures obtained from Scottish Newspaper Society members.
Companies who responded to a request for information abut the impact of the Scottish Government's proposed ban on all advertising and marketing of alcohol are also fearful about the implications for new product development as well as traditional revenues.
Direct impacts of an alcohol advertising ban in newspapers and magazines could include:
Loss of up to an eighth of advertising revenues, around £1.5m for bigger publishers in years with major events like World Cups.
Threat to "best-buy" features from drinks writers and could subject drinks-related editorial coverage to legislation.
Force UK-wide publishers to either produce Scotland-only editions of single edition magazines or not distribute in Scotland at all.
End wine clubs as a feature in Scottish news publications.
Destroy tourism-related publications, on which many independent publishers rely.
Threaten the viability of the Scottish Press Awards, which is supported by Diageo, Edrington and Glenmorangie.
Indirectly, the threat to Scottish jobs, tourism, hospitality, sports and cultural events all have serious implications for both advertising revenues, sponsorship deals and editorial variety.
Lithuania and Norway are the only European countries to ban alcohol advertising in news brands, although Norway allows limited exceptions. Indications that the Norwegian ban cut consumption by 7.4 per cent are described by academics as "tentative".
SNS director John McLellan said, "The Scottish Government's threat to alcohol advertising and marketing in newspapers and magazines is based on little more than a whim that children might be influenced by what they might come across in publications primarily aimed read by adults, and limited anecdotal evidence that some people struggling with addictions might relapse if they see an advert.
"The consultation paper produces no concrete evidence to prove the extent of the effect of advertising in news brands on children or people suffering addiction issues, yet the clear intention is to knock this leg from under our businesses and cripple them in the process," he said.
"The justification for such a draconian approach is in case advertising migrates to news brands if it is banned elsewhere, as if there are audiences in search of alcohol adverts who will migrate too.
"It is only a theory amongst the civil servants who produced the consultation document that the effect of reducing adverts in other media would be impaired by the continued availability of marketing in news brands, and that's no basis on which to inflict serious harm on our already very hard-pressed sector."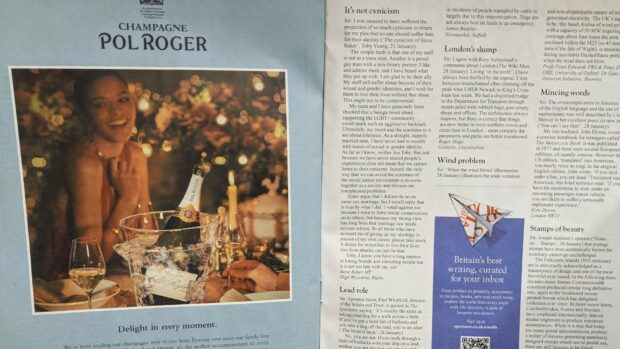 Magazines like The Spectator could be forced to remove adverts from copies sold in Scotland
Figures from the Scottish Government-backed Scottish Health Action on Alcohol Problems show alcohol consumption has been declining steadily, with the mean number of alcohol units consumed per week by adult drinkers falling from 16.1 in 2003 to 11.3 in 2021, and the percentage of people drinking over the recommended healthy limit of 14 per week has fallen from 34 to 23.
While the 2020 Preventing Harm – Alcohol Marketing and Young People report from the Young Scot health panel recommended reducing advertising it did not specify news publications.
John McLellan added: "In some ways it is encouraging the Scottish Government recognises the reach of Scottish news brands, but somewhat contradictory to say the least that it chooses to invest only 2.5 per cent of its own marketing budget with our titles."
Paragraph 10.4 of the consultation paper says: "If print advertising was not restricted alongside other restrictions presented above then it may provide an opportunity for increased expenditure on print marketing, instead of the other forms of marketing being restricted. Restricting alcohol advertising within printed publications may therefore form part of a comprehensive approach to reduce the impact that alcohol marketing has in Scotland."
The consultation document can be found here, and it is open for evidence until March 9