Scotland's news brands offer print, web, mobile and app platforms to help you reach your target audiences. Our national daily newspapers are also responsible for some of the biggest and best networking and awards events each year.
News brands are trusted by their readerships to reflect their readers' values and act in their interests. Combined with the immediacy and two-way dialogue enabled by digital communications, readers enjoy a greater sense of ownership than was ever possible in the past. This offers our commercial partners a compelling way to reach customers through a credible and trusted platform.
With proven effectiveness and bespoke, cost effective solutions, advertising through a Scottish news brand is an essential part of most companies' marketing strategies.
Research & Analysis of Media (RAM) found that 50% of all Scottish newspaper advertisements are seen and remembered, while 46% of readers advertisements as a means of finding out new information.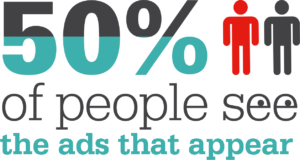 RAM has also found that ad recall through print prompts customers to act on digital advertisements they have already seen.  For more facts and figures regarding Scottish newspapers, visit the Scottish newspaper industry overview.
A  new Newsworks study found that 16-34 year-olds use 22 sources a month, so reaching them can be difficult, but 78 per cent of them use newspaper brands to verify information received through social media.
Readers are 2.4 times more likely to find news brands reliable than social media, and 73 per cent believe it is important their news comes from a respected news provider.
The implications for advertisers are that a variety and multiplicity of brand or product placements are needed to reach yunger audiences, but news brands remain an important part of the mix.
Whether you are a small local company, a multinational or a national household brand, the commercial expertise of Scottish news brand advertising and marketing teams can deliver solid results in reaching and engaging your target audiences.
Let our experienced marketers design an advertisement, campaign or even an industry that will dramatically increase recall and affect behavior for your target audience through the power of the press.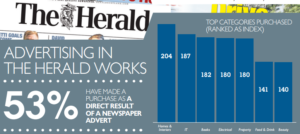 Your advert could be in front of millions of eyes every single day. For example, The Sun records a staggering 8.7 million readers daily, with 31.1 million readers per month, 2.2 million of them in Scotland. 32 per cent of Sun readers are in the ABC1 demographic, meaning that these readers have more disposable income to spend on products they may see advertised in front of  them.
The Herald boast impressive advertising statistics and find that entertainment adverts are particularly effective in its paper. With their readers income levels 43% higher than average, its readers are three times as likely to  eat out often, book holidays or partake in social activities. 7 out of 10 have been to the cinema or theatre in the last 12 months, and a large number of the readers are business owners or retired, active grandparents. This is just a teaser of some of the insights Scottish news brands can offer your business when tailoring a commercial or advertising campaign for your audiences.