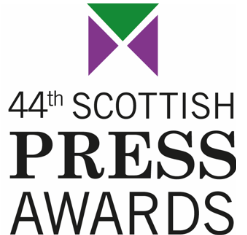 The highly coveted Scottish Press Awards 2023 have opened for entries today, (January 6, 2023) with a record number of awards available this year.
The Scottish Press Awards, now in its 44th year, will again recognise the best journalism from across the country.
The awards will cover a record total of 34 different categories, with five new awards introduced to celebrate local and regional journalism.
The new categories are:
· Local Feature Writer of the Year
· Local Campaign of the Year
· Local Reporter of the Year
· Regional Feature Writer of the Year
· Regional Reporter of the Year
The local categories are specifically for small print or online publications serving distinct communities, such as traditional weekly newspapers.
The regional awards are for journalists working in larger regional daily or city-wide publications and websites.
These extended categories will replace previous categories for best Local/Weekly Campaign, Local/Weekly Feature Writer, and Local/Weekly Reporter.
The awards ceremony and dinner will return to an earlier slot in the year and will take place at the DoubleTree by Hilton Glasgow Central on Wednesday 7 June. The shortlist for the awards will be announced later this year.
Scottish Newspaper Society director John McLellan said: "The challenges facing the industry might change but they don't diminish, and neither does the quality of journalism produced by Scottish news publishers every day. Despite sparing costs, our sector continues to innovate to keep the public supplied with reliable and trustworthy information.
"This year's event is moving back to its traditional spring timing, and we are once again looking forward to a showcase for the best in Scottish journalism."
Last year's event saw Heather Dewar win the coveted Journalist of the Year and Sports News Writer of the Year categories for a series of powerful investigations in the Scottish Daily Mail.
The Press and Journal scooped the prestigious Newspaper of the Year award for how it delivered relevant, quality content during its digital transformation, whilst The Sunday Post won the Sunday Newspaper of the Year prize.
Other winners on the night included Marion Scott at The Sunday Post, who was named Reporter of the Year and won the Nicola Barry award, whilst Norman Silvester, whose career has spanned more than 40 years, won the Lifetime Achievement award.
The 44th Scottish Press Awards are sponsored by VisitScotland, Royal Bank of Scotland, Diageo, Openreach, The Law Society, The Glenmorangie Company, BIG Partnership, DoubleTree by Hilton Glasgow Central and Event Consultants Scotland.