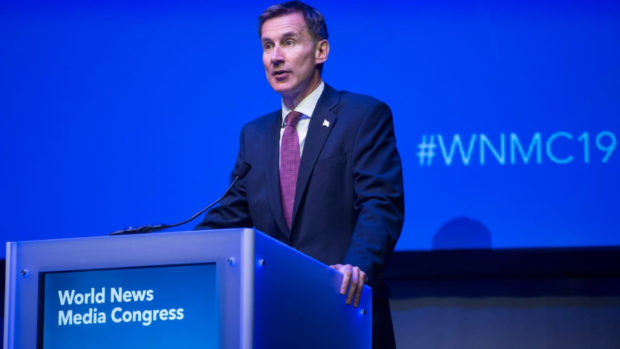 Foreign Secretary Jeremy Hunt called for Press freedom to receive worldwide support when he addressed the WAN/IFRA Congress in Glasgow last Saturday (June 1).
He said: "We want to build a coalition of governments committed to a stronger diplomatic response when media freedom is curtailed – and to greater support when countries do the right thing, remove restrictions and push out the frontiers of free expression.
"Democracy and freedom of expression mean nothing unless independent journalists are able to scrutinise the powerful… however inconvenient this might sometimes be for the politicians on the receiving end."
In turn, the board of WAN/IFRA approved a series of recommendations for Mr Hunt, including expressing concern about the arrest of two Northern Irish journalists, Trevor Birney and Barry McCaffrey, over their investigations into police handling of the 1994 Loughinisland killings by the UVF and on Monday (June 3), the Police Service of Northern Ireland confirmed the case against them had been dropped.
SNS diretor John McLellan said: "The SNS was delighted to work with WAN/IFRA to deliver a strong warning to the UK Government about further threats to Press freedom in this country and whether coincidentally or not it was fitting that the investigation into two journalists was scrapped on the last day of the Congress. We were pleased Mr Hunt gave firm assurances about is commitment to media freedom and we look forward to the rest of our concerns being addressed too."
The full text of Mr Hunt's speech  can be found here
The full text of WAN/IFRA's  recommendations to the UK Government to support Press freedom can be found here