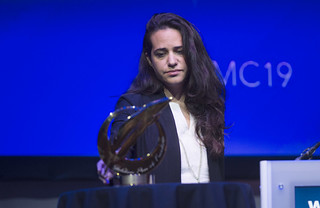 Murdered Saudi journalists and commentator Jamal Khashoggi was honored with posthumous award of the Golden Pen of Freedom in an emotionally-charged ceremony at the World Association of Newspapers' Congress in Glasgow last weekend.
Mr Khashoggi was a constant critic of the Saudi regime, particularly in his columns for the Washington Post and he was murdered by Saudi security personnel in their Istanbul consulate in October last year. His body has never been found.
Award winning Saudi journalist and documentarist Safa al-Ahmad received the award on behalf of Mr Khashoggi and his family and struggling to hold back tears as Mr Khashoggi's picture was projected above her, Ms al Ahmad said ""I feel both honoured and heartbroken to accept this award on behalf of Jamal Khashoggi.
"I can't imagine the anguish his family is going through. But his death is more than a private trauma for his family. His murder has become our collective trauma."
Ms al-Ahmad's work  has focussed on Middle East conflicts for over a decade and her film Yemen Under Siege  won two Emmy Awards in 2017. She also won the 2015 Index on Censorship Freedom of Expression Award for Journalism for her 2014 film Saudi's Secret Uprising.
The full text of Ms al-Ahmad's acceptance speech can be found here