A UK award-winning campaign by the Inverness Courier to have the notorious A9 dualled has been backed by two MSPs in the Scottish Parliament.
With The Metro, The Courier was a joint winner of the News Media Association's Making a Difference Award for best campaign, and it was praised by Highland MSPs Fergus Ewing (SNP) and Rhoda Grant (Labour) in separate motions, saying it "exemplifies proactive journalism at its finest".
Mr Ewing's motion praised "the important role of local media outlets like The Inverness Courier in a democratic society," and Ms Grant recognised it was "as an exemplary instance of the essential role that journalism plays in society".
Thirteen people were killed on the 112-mile section of the A9 between Inverness and Perth in 2022 alone, and there have been over 100 fatalities since 2010.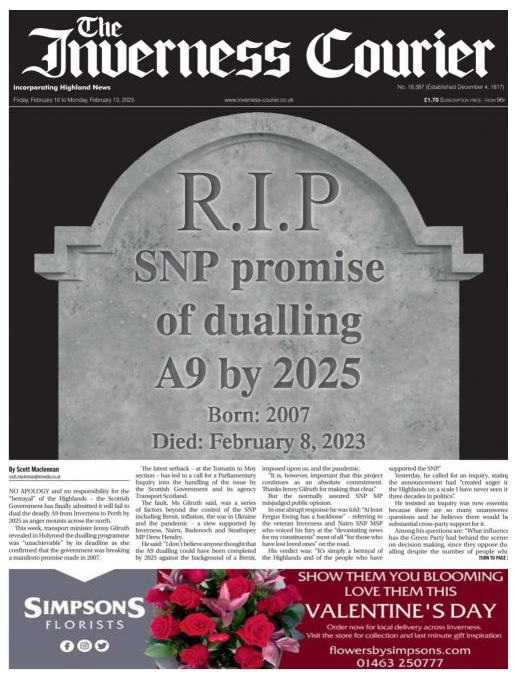 The Courier's campaign was launched after it was confirmed the Scottish Government would not fulfil an SNP promise to dual the road by 2025, and has reached over one million readers.
The title also hosted a debate with the three SNP leadership candidates, and hosted an A9 Crisis Summit attended by bereaved families as well as civic leaders. First Minister Humza Yousaf subsequently promised a new completion date, but according to Transport Scotland an update on timescales is still awaited.
The Making a Difference awards are the highlight of the News Media Association's Journalism Matters week, and NMA chief executive Owen Meredith said the winning campaigns "emphasise the vital significance of trusted independent journalism."
Newsbrands Scotland director John McLellan said: "The Courier is very much to be congratulated for giving Highland communities a focus and a voice for the fight to save lives on this killer road, and I'm sure they will continue to press the Scottish Government to get this vital work done."